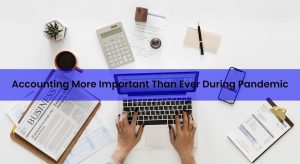 Accounting being the language of business has always played a significant role in every economy of the world. The increasing significance of accounting in a digital world during pandemic COVID 19 has become a debatable issue among students, academicians, professionals and industry experts. The accountants have played a considerable role in managing the funds of businesses during this great pandemic. The analytical skills and ability of accountants have made accounting really a highly demanding profession during the great pandemic COVID 19. Accountants and corporate finance professionals have helped organizations a lot by increasing effectiveness by comparing pricing scenarios, evaluating investment opportunities and looking for new ways to curtail operating expenses.
Due to the emergent degree and interval of the pandemic, organizations have been experiencing circumstances associated with a general financial recession due to financial market volatility, fading credit, liquidity concern, additional increase in government interference, growing unemployment, turn down in consumer discretionary expenditure, rising inventory level, less production due to reduced demand, layoffs and other reshuffling activities. To save the economies from this crisis, accounting has been playing a beautiful role in the current scenario by serving the best interests of entrepreneurs, creditors, investors, employees, management, government and others. It has helped to gauge the financial health, profitability, viability and consistency of business organizations. As a fundamental and comprehensive tool, it has supported every organization to achieve the aim of value maximization.
With this aim, the importance of talented and steadfast financial accountants have heightened during times of financial upheaval. Even during uncertain times, the business community has to look to accountants for their analytical insights and their stewardship of corporate finance.
To cope up with the challenges of this global pandemic, the book Basic Accounting provides an in-depth knowledge of accounting concepts, procedures and techniques which are a must for accounting as well as non-accounting professionals.
The book covers the most important topics like preparation of final accounts, the rectification of errors, Bank reconciliation statement, depreciation, computerized accounting, fund flow statement, cash flow statement, accounts of non-trading organizations and sources of finance as well as share capital also. This book fosters a firm understanding of these topics to help finance managers as well as accountants to effectively hold the revenues and funds of organizations.
The book has been especially designed for undergraduate students of computer application (BCA) and business administration (BBA). It also proved to be of immense value to the postgraduate students of business administration (MBA).
Visit www.phindia.com to have a glimpse of the book and its detailed contents.