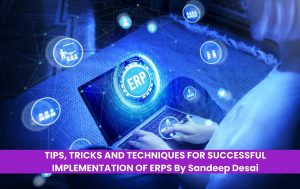 ERPs are here to stay and seen as a standard option for enterprises. Enterprises could be Small, Medium or large. Appetite for ERPs – whether homegrown or off-the-shelf products is a necessity. Reasons for looking at ERPs are simple, and some of them are: Enterprises would like to borrow the best practices developed in some of the available products in the market instead of reinventing the wheels, have integrated business processes to derive a single version of the truth on information, businesses are always meant to scale, and hence, intended products are expected to be robust, scalable, and secured.
ERP implementations are seen to be a strategic move, and important stakeholders of the organizations, namely, Head of Organization, Business Owners, Head of Finance and IT must be involved in monitoring and guiding the project team from time to time.
Selecting a product is always a tricky proposition and must be done in a careful manner. Few important takeaways from the well-known implementations are: look at the installed base of the product in the region, support, availability of skill sets within the organization, training and learning curve etc.
The next important concern and step are to have an implementation partner. It is often seen implementation partner is selected based on the cost, market reputation etc. I personally feel the most important part of the selection is to see the domain expertise of the implementation partner so that effective communication with the businesses can be established. Does the implementation partner have a relevant knowledge base on the domain so that customers can benefit from the same? Therefore, interviewing partner and their team members from these dimensions becomes a crucial parameter.
Implementation of ERPs is a daunting task, and hence, motivating internal as well as external team members is imperative. We often do this by creating internal team-building exercises, bringing external speakers on motivation, and giving them an off-site environment. Hence, allocating a suitable budget for these activities well in advance (ideally during kick-off) may not be a great surprise to stakeholders.
Before we go to other trivial steps, namely, data migration and testing, let me take another important aspect of effective communication during the entire implementation life cycle. We must design a communication deck well in advance and distribute and present it to relevant leaders. Communication must include progress, risk and mitigation plans, roadblocks and expectations from management etc. There could be certain facts to be communicated only to top leadership, and project owners must be bold to communicate effectively and with possible suggestions.
Data migration and testing are trivial steps of any implementation. Generally, it is seen that organizations force a team to migrate whatever crap exist in the old system to be migrated to ERP. There are many suggestions on the data migration, and some are: One can migrate data which is required for statutory assessment (let us take of last 6 – years) and rest put it on Data Warehouse and build Analytics layer, Bank and Insurance companies can look at only live policies of past 30+ years and rest put on analytics layer for an internal team to respond. As far as possible, do not migrate old videos or audio files as it is. One can look at the option of creating a BIG DATA environment.
Testing is divided into 2 phases, namely, Integration and Model Office Testing. Integration testing is to ensure all the modules are tightly integrated and producing desired results. Model Office testing is in case enterprise have third-party products; ERP has developed interfaces with the product and organization can not function unless they handshake well. Therefore, model office testing is imperative.
Last but not least, technical and functional documentation will be the treasure of all the above efforts. Good documentation will serve the current team and help the process manual for the organization, and annual audits can also take the help of process audits, etc. Technical documentation is a useful tool for maintenance, next upgrades – major or minor etc. On-going maintenance of documentation is a must. I always recommend an audit of documentation to ensure they are updated regularly in line with the embedded or changed processes.
Needless to say, many organizations seem to be celebrating 'Go live' in a grand way. Acknowledging project team members with proper achievement certificates and awards to motivate them will add employee delight and encouragement.
Beyond ERPs
The fun begins after about six months to one year of implementation where-in the leadership team expect quick reports, would like to see a design and engineering needs to be addressed in the latest implemented ERP. Appetite for computing grows, and ERP seems to be having limitations.
This is going to be an interesting and challenging situation for the existing IT team to look at beyond ERP, and some of the reasons are: user requirements are not adequately addressed in current ERP and to fulfil separate licensing and implementation costs to be incurred with long-drawn timelines, implemented ERP is not meant of new intended requirement etc. Noted business requirements which are beyond existing ERP implementations are Analytics (dashboards, data mining, predictive analytics etc.), Document, Design and Employee Collaborations, Customer Relationship Management, Demand Forecast Planning, High-tech engineering and design solutions to emulate real-life situations (for example, 5D, 6D modelling), Estimation and Risk modelling, automating repetitive tasks etc.
To address the above business needs, one must research carefully various technologies available in the market in the field of collaboration, content management, analytics, design and engineering, business process automation, estimation and risk modelling. Some of them are available in the SAAS platform, and a few are on-premise as well.
Most of the Systems Integrators (SI), namely, IBM, HP, Microsoft, AUTODESK etc. are well equipped with the above technologies, and more importantly, they are well integrated with well-known ERPs. There are open-source products available with the support and can also be integrated with ERPs.
One caution of implementing the above technologies by interfacing with ERP is IT security, and most of the applications are exposed to the outside world. Therefore, addressing security framework is of paramount importance to the organization and must be addressed with proper assessment and recommended to audit the entire environment periodically.
Needless to emphasize, success in implementing extended technologies have to be planned with a partner who possesses the right skills, and the next key for success is not to take too many initiatives in one go…ideally one key initiative at any point in time!!
To understand general implementation methodologies as well as specific methodologies prescribed by Oracle and SAP for the implementation of their products, explore our book ERP TO E2RP: A CASE STUDY APPROACH by Desai and Srivastava.
For more information, please visit ERP TO E2RP : A CASE STUDY APPROACH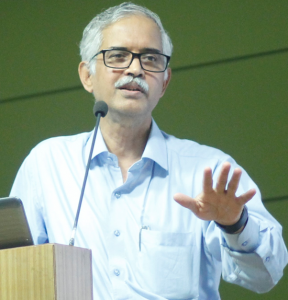 S
andeep Desai — The author of book ERP TO E2RP: A CASE STUDY APPROACH