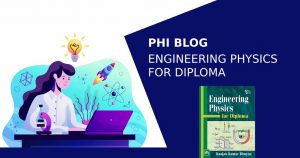 Physics is an applied science from which all engineering technologies have evolved. Therefore, a thorough knowledge of the basic principles and applied aspects will help students understand, apply and grow techniques more effectively and thereby improve the life of the society.
Engineering Physics is a course that might be suitable for you if you have an avid interest in technology and a passion for physics. Skills like problem-solving, observation skills, numerical aptitude, practical thinking and reasoning are essential for this field. Technical know-how is beneficial, and professionals in this field should be able to communicate their ideas to others with clarity, precision and imagination in a way that captures the interest of others. Engineering physics stresses the application of fundamental scientific principles to the design of equipment.
PHI Learning has come up with an eTextbook Engineering Physics for Diploma by Bhuyan. It imparts knowledge in basic concepts of physics relevant to engineering applications. Also, it introduces advances in technology for engineering applications. The paperback edition will also be available with online portals and your nearby booksellers in the next few months.
Book Description
Engineering Physics for Diploma is a complete textbook written for the diploma students according to the syllabi followed in the Indian institutes offering diploma courses in engineering. The book aims to provide a thorough understanding of the basic concepts, theories, and principles of Engineering Physics, in as easy and straightforward manner as possible, to enable the average students to grasp the intricacies of the subject.
Special attempts have been made to design this book, through clear concepts, proper explanations with necessary diagrams and mathematical derivations to make the book student-friendly. Besides, the book covers some advanced topics such as communication systems, ultrasonics, and laser technology with their wide range of applications in several fields of science, technology, industry, and medicine, etc.
The book not only provides a clear theoretical concept of the subject but also includes a large number of solved problems followed by unsolved problems to reinforce conceptual understanding of the concepts. Moreover, the book contains sixteen chapters, and each chapter contains glossary terms, short questions, and long questions for practice.
Logically organised content for sequential learning

Learning outcomes at the beginning of each chapter

Important concepts and generalisations highlighted in the text

Chapter-end quick review
Coverage of Topics
Units and Dimensions

Scalars and Vectors

Kinematics

Projectile and Circular Motion

Laws of Motion and Friction

Work, Energy and Power

Gravitation

Oscillations and Waves

Heat and Thermodynamics

Optics

Electrostatics

Magnetostatics

Current–Electricity

Magnetic Effects of Electric Current

Electromagnetic Induction

Modern Physics
Know the Author
BHUYAN, RANJAN KUMAR,
Ph.D. (IIT Guwahati)
Dr. Bhuyan is with the Department of Physics, Government (Autonomous) College, Angul, Odisha. With over a decade's teaching and research experience, he has published about 18 international peer-reviewed journals and two books. He has presented his research papers in more than 25 national and international conferences.
ENGINEERING PHYSICS FOR DIPLOMA by BHUYAN, RANJAN KUMAR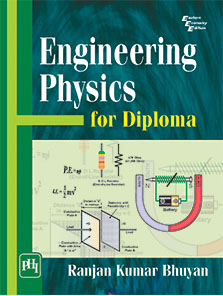 Print Book ISBN: 9789389347210
eBook ISBN: 9789389347227
Print Book Price: INR 550.00 440
Ebook Price: INR 550.00 385
Stay in Touch
For any queries, reach us at phi@phindia.com