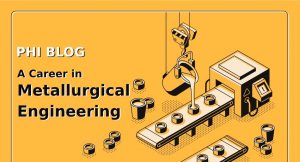 Engineering is filled with boundless possibilities, whether you want to enter the technological world. It is not just limited to the popular career streams of Software Engineering, Civil Engineering, Electronic Engineering, etc. but you can also discover Robotic Engineering, Mechanical Engineering, Geotechnical Engineering, among others. One such lesser-known field is Metallurgical Engineering. Referred to as the study of metals and mining, Metallurgical Engineering is slowly advancing into a full-fledged career. Here, we are bringing you all the details about the field of Metallurgical Engineering, the best courses to pursue and the career scope it entails.
Metallurgical Engineering is a sub-field of Engineering that studies the various properties and processes related to metal and metal extraction. This field also applies the fundamentals of engineering to the processing, designing, and extraction of metals along with analyzing the significant processes of the metal industry. If you are interested in assessing the various practical as well as theoretical aspects that revolve around metals and ores, then this is an ideal field to explore. Metallurgical engineering is also associated with diverse areas like mining, the composition of alloys, separating minerals, etc.
Key Elements of Metallurgical Engineering
To explore this field, you need to look at the fundamental courses and subfields that constitute metallurgical engineering. Here are a few critical elements of this field that are taught in detail while pursuing a program in Metallurgical Engineering:
Also known as Applied Mechanics, this field looks at the practical application of the theory of mechanics. This field acts as a bridge between the theories of Physical Sciences and its technological applications. Engineering Mechanics is a critical part of any program in Metallurgical Engineering because it serves as building the foundation of the study of metals.
This sub-field of Metallurgy Engineering is concerned with the physical properties and structures of metals and alloys. Physical Metallurgy ensures that the properties of an alloy or a metal extracted as per the standards. It also involves large scale metal extraction and composition of alloys.
Chemical Metallurgy is a sub-field of Metallurgy Engineering that mainly consists of chemical processes behind extractions of metals from its ores. This field like physical metallurgy plays a crucial role in the basic processes involved in the field of Metallurgy.
Machine Elements and Machining
This field looks at the theoretical and practical study of various machinery involved in the extraction, remodeling, shaping, and manufacturing of metals. If you have an interest in learning how multiple machines help in the processes related to metallurgy, then studying Machine Elements and Machining will provide you with an overview of those machines and their related processes.
The field of Metallurgical Engineering has ample career opportunities for those who are passionate enough to discover the world of metals. A metallurgical engineer has several prospects to explore in several metal industries and can play a crucial role in ensuring the smooth functioning of various industrial processes in different capacities.
Here are a few job prospects that you can discover after pursuing a course in Metallurgical Engineering:
Application engineers are experts in the field of Metallurgy and are hired by corporate firms to get expert advice on various industrial processes managed by the firm. An application engineer helps the sales department by providing their expertise on certain commercial aspects of Metallurgy.
A process design engineer looks at various processes involved in designing a project and supervising it. These projects may include various metallurgical processes from mining to designing of alloys. Process design engineers also interact with the multiple sales sections of a firm to meet the demands of the market and the firm.
A maintenance engineer supervises a range of different industrial processes and is responsible for regular inspection of machinery as well as an efficient flow of work in the industry.
Thus, if you are curious enough to explore the world of metals, Metallurgical Engineering is the ideal career path for you.
Source Credit: leverageedu.com
PHI Learning has an exhaustive list of titles in the discipline of Metallurgical Engineering, written by eminent authors in the field. These books are used by Metallurgical Engineering students of premier institutes including IITs, NITs, BITs, and many other technical universities.
Under the imprint Eastern Economy Editions (EEE), PHI learning brought out a series of books, written by Dr. V. Raghavan, for the students of metallurgical and material science engineering. It helps students to apply metallurgical engineering principles in their employment successfully.
Following well-adopted textbooks reflect the expertise of Dr. V. Raghavan:
Materials Science and Engineering: A First Course

Physical Metallurgy: Principles and Practice

Solid State Phase Transformations