MANAGEMENT CONTROL SYSTEMS : PRINCIPLES AND PRACTICES, SECOND EDITION By S. C. Das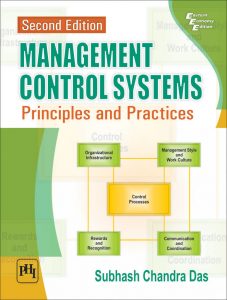 This compact and concise textbook, in its second edition, gives clear analyses of the principles and practices of management control systems being practised by the companies all over the world.
Divided into seven sections, the book explains various approaches and designs of management control system. It then moves on to give a detailed description of key success variables as control indicators and explains goals, strategies and organization for adaptive control, divisional autonomy and responsibility. While describing the management tools and processes, the book explains in detail, the strategic planning and programming processes, budgeting and budgetary control, standard costing and variance analysis, transfer pricing, reward system and management control of operations.
The new edition is thoroughly updated and a new chapter on Managerial Decision-Making is added to it. The chapter is added to demonstrate with examples how managerial decisions are taken by the organizations as a part of management control exercise by the application of marginal costing techniques.
Primarily intended for the postgraduate students of management, the book can be equally beneficial for the commerce students, researchers, accounts professionals, and corporate policy and decision makers.
Preface • Preface to the First Edition
Acknowledgements • List of Abbreviations
Part I: MANAGEMENT CONTROL SYSTEMS
1. Management Control Systems:
2. Approaches to Management Control System
3. Design of Management Control System
4. Key Success Variables as Control Indicators
Part II: ENVIRONMENT AND MANAGEMENT CONTROL
5. Goals, Strategies and Organization for Adaptive Control
6. Divisional Autonomy and Responsibility
Part III: MANAGEMENT CONTROL TOOLS AND PROCESSES
7. Strategic Planning and Programming Process
8. Budgeting and Budgetary Control
9. Standard Costing System and Variance Analysis for Control Actions
12. Management Control of Operations
Part IV: STRATEGIC COST MANAGEMENT
13. Strategic Cost Management and Continuous Process Improvement
15. Managerial Decision-Making
Part V: AUDITING AS A TOOL OF MANAGEMENT CONTROL SYSTEM
17. Audit of Management Functions
Part VI: MANAGEMENT CONTROL IN ORGANIZATIONS
18. Management Control in Multinational Companies (MNCs)
19. Management Control in Service Organizations
20. Project Management Control
21. Management Control in Non-profit Organization
Part VII: CURRENT ISSUES AND MANAGEMENT CONTROL
22. Ethics and Management Control
23. Corporate Governance and Management Control
Appendix 1 Total Quality Management Systems
Appendix 2 Product Matrix Organization
Appendix 3 Formal Control System for Adaptive Organization
Appendix 4 Informal Control System for Adaptive Organization
Appendix 5 General Benchmarking Process
Appendix 6 Quality Process Teaming Structure
SUBHASH CHANDRA DAS, PhD, MCom, FCMA, MWSOM (UK), a Management Consultant, is former Director (Finance), Hindustan Paper Corporation (HPC) Limited. He is also a visiting faculty in many universities and B-schools. With over three decades of professional experience as a Financial and Organization and Methods (O&M) expert in Tata Steel, Greaves Cotton, SAIL, Hindustan Cables Limited, and Hindustan Paper Corporation Limited, Dr. Das has contributed thirty articles in the area of management to Journals and Research Bulletins of various professional and management institutes. He has authored six books on various management subjects—all published by PHI Learning—recommended in many B-schools and universities.