Recently, the All India Council of Technical Education (AICTE), introduced a mandatory course on the Indian Knowledge System (IKS) while revising the Engineering and Management Curricula in 2018. This is meant to help students gain awareness of their rich heritage and the wealth of knowledge produced by the Ancient Indians. This textbook responds to the growing need felt by Indian society at large for the Indians' vast knowledge system to be included in the educational curriculum.
This book is a great resource for students since it features detailed coverage of IKS topics. It contains a balance of explanations of concepts and their applications. The text also contains several endnotes in each chapter. These point towards the extensive authentic research undertaken to write this book. The text features Chapter Summaries before each chapter. These ensure the reader is informed of the learning outcomes to be expected from the chapter. They also shape the concept of the various IKS topics in the readers' minds prior to further details. The text also features review questions for practice at the end of each chapter. These help keep track of important details as readers progress through the text.
Another great feature of this book is the "learning outcomes" section in each chapter. This summarises the concepts readers can expect to learn about at the start of the chapter. The text contains illustrative diagrams and charts alongside many informative images and "fun fact" boxes. The "Discover IKS exercises" at the end of each chapter are noteworthy. These help students experientially discover the multi-faceted nature of IKS.
This post aims to provide all those who are interested in knowing more with a small preview of what to expect from this book. We have written a detailed review of the first introductory chapter to help interested students and learners get a glimpse of what is in store for them.
The chapter begins by explaining why it is important to improve our knowledge of IKS. This is done with the help of an 'IKS in Action' fact box. In this, the author discusses patents on products made with native Indian plants. The "fact box" provides the example of neem leaves that have been used as a pesticide in India for centuries. However, this great idea of using neem leaves has been utilised and patented by a US company.
Another example provided is of two US researchers who had previously secured a patent. This was for the use of powdered turmeric for healing wounds. India's Council of Scientific Research has successfully forced the US Patent and Trademark Office to revoke this patent. This is since Turmeric is a native Indian plant and India has been using it for centuries for wound healing and various other purposes. The Turmeric patent case makes it evident that our indigenous knowledge and the value of our culture are often easily neglected.
Further, the author explains that India is a country with a long civilizational history. The author goes on to provide some historical background on IKS. In section "1.1 Importance of Ancient Knowledge," the author discusses the practical and meaningful impact of IKS. The section contains a list of four prime factors which add to the importance of IKS which are:
Identity: Knowing about IKS helps young Indians feel connected to their heritage. This, in turn, helps strengthen our sense of identity.
Culture: From a social perspective, culture is important as it is a set of ideas and customs. The prevailing knowledge and literary traditions play a significant role in shaping our culture. If the underlying knowledge systems are abruptly withdrawn from society, the cultural practices will be rudely jolted.
Received Wisdom: Ancient knowledge plays a valuable role in 'received wisdom'. This is the continuity of thoughts and ideas passed down by previous generations. It also consists of ideas formed as a result of studying our history, heritage, and the culture of the past. This knowledge encourages the creation of new ideas and innovation. This is since modern cultures build upon the knowledge that is passed down to them.
Economic value: The current global economy puts greater emphasis on knowledge. The economic value of knowledge is evident from the global intellectual property rights regulations and patent laws. Therefore, the ancient knowledge system will be beneficial to a country like India where we have a wealth of ancient scientific knowledge.
Section "1.2 Defining Indian Knowledge System" is also noteworthy. The author breaks down the term "Indian Knowledge System". This section clarifies for the reader what a knowledge system even means. It also comments on how India's knowledge system is unique. The author explains each word within the term – Indian, Knowledge, and System. This is done to help students have a deep understanding of the term which is the subject of the book.
This chapter also features a chart which neatly classifies literary and non-literary traditions in IKS. The table is compact and interconnected and illustrates the various sub-categories in IKS. The author also expands upon each category in an informative and concise way. This section is a particularly interesting read. There are several such tables paired with explanations of each category throughout the text. The chapter closes with some historical information on IKS to help place the concept within a context.
Overall, this overview chapter can be commended for systematically elaborating upon the meaning, significance, and historicity of IKS.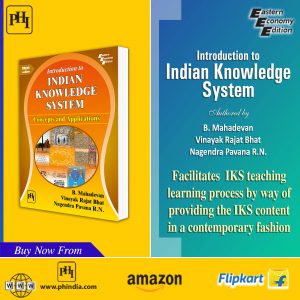 About the Authors
B. MAHADEVAN, PhD (IIT Madras), is Professor at IIM Bangalore. As founding Vice-Chancellor of Chinmaya Vishwa Vidyapeeth (University for Sanskrit and Indic Traditions), he created a new generation of academic programs in the higher education space that seamlessly blends Ancient Indian Knowledge traditions with Contemporary Knowledge Systems.
Besides being on the advisory boards of several business schools and management journals in India, Professor Mahadevan has been playing a very significant role in the field of Sanskrit and Samskriti for the past 20 years. These include:
• Visioning and execution of Sanskrit promotion activities in India and abroad through a variety of roles in Samskrita Bharti, including being the President of Samskrita Bharati trust
• Shaping the trajectory of Sanskrit educational space in the country by providing thought leadership initiatives involving Sanskrit University Vice Chancellors
• Helping the Government in policy decision making through membership in Central Sanskrit Board and invited membership in Rashtriya Sanskrit Parishad
• Introducing Sanskrit and Samskriti to mainstream audiences such as the Top Management of Corporate and Management graduates at IIMB through seminars, elective courses and lectures
• Professor Mahadevan was conferred the 'ICFAI Best Teacher Award' by the Association of Indian Management Schools in 2005. He was one among the 40 nominated globally for the 'Economic Intelligence Unit's (EIU) Business Professor of the Year Award', 2012.
VINAYAK RAJAT BHAT, PhD, is Associate Professor in Chanakya University, Bengaluru. Earlier he has worked as an Assistant Professor and held the position of Head of the School of Vedic Knowledge Systems at Chinmaya Vishwa Vidyapeeth from the year 2017 to 2022. He has been teaching courses in Indic Knowledge Systems, Vyākarana, Āyurveda, Arthaśāstra for more than 11 years now. Dr. Bhat has been honoured with Abhijña, Kovida and Chūdamani in Vyākarana. He was trained under the guidance of the great scholars like Late Prof. R. Devanathan, Prof. B. Mahadevan, IIM Bangalore and Dr. Chandrashekhar Bhat, CSU.
He was appointed as Specialist Sanskrit Advisor for a project on 'Ayurvedic Man: Encounters with Indian Medicine' by Welcome Collections, London. He has written many articles in different areas of Indian Knowledge Systems.
NAGENDRA PAVANA R.N., PhD, is with the School of Vedic Knowledge Systems at Chinmaya Vishwa Vidyapeeth. Dr. Pavana has been teaching major works of Vyākaraṇa śāstra and allied subjects for more than fifteen years. He has also worked with Vyoma Linguistic Labs and contributed to developing e-learning tools for various topics of Sanskrit.
Besides Sanskrit grammar, his other areas of interest are Sanskrit literature, aesthetics in Sanskrit Poetry, Indian philosophical systems, the Vedas and the Vedāṅgas.