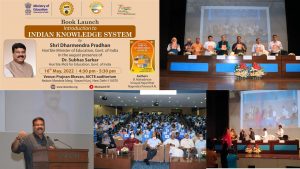 The All India Council for Technical Education (AICTE) hosted a book lauch event for PHI Learning's new title Introduction to Indian Knowledge System on Monday, May 16 at the AICTE Auditorium, Delhi.
The Union Minister of Education, Shri Dharmendra Pradhan launched the textbook at the event which hosted several senior dignitaries of AICTE and the Ministry of Education including Dr. Subhas Sarkar, Union Minister of State for Education. Our Chairman Mr. Asoke K. Ghosh and Managing Director Ms. Pushpita Ghosh were also present at the event. The program included a welcome address by Prof. A.D. Sahasrabudhe, Chairman, AICTE and Author, Dr. B. Mahadevan, IIM, Bangalore among others. A vote of thanks was provided by Prof. M P Poonia, Vice Chairman, AICTE. AICTE also nominated faculty members and students from their colleges to participate in the launch program.
The AICTE has included a mandatory course on IKS to help students learn about their heritage. Currently, there are no textbooks available on the subject. Our latest title responds to the growing need felt by Indian society at large for Indian heritage to be included in the educational curriculum. The book is authored by B Mahadevan, IIM Bangalore professor in association with SVYASA, Bangalore, and Chinmaya Vishwavidyapeeth, Ernakulam. The text aims to meet the requirements of the curriculum in the new mandatory course on IKS. It also aims to align with the National Education Policy (NEP) 2020.
Although the book was initially developed for engineering institutions, the contents easily address the requirement for such a book in other University systems (Liberal Arts, Medicine, Science and Management). The text is categorised into four parts. The first part is an introduction to IKS. The second part deals with concepts applicable to various domains of science and engineering. The third part is on science, engineering, and technology in IKS. The fourth deals with humanities and social sciences in IKS. Some unique features of this book include: "fun fact" boxes showing practical uses of IKS, rich illustrations, opening vignettes, preemptive summaries defining learning outcomes, endnotes which establish research authenticity, suggested readings and videos, chapter summaries, and end-of-chapter review questions.
India's sciences are based on fundamental principles, axioms, logical inferences, and empirical observations. The historical accounts of science in India are inadequate and need to grow beyond the colonial lens. This newly released IKS textbook aims to provide students with an opportunity to reconnect with the past and enable them to carry out multidisciplinary research.
Addressing the event, Shri Dharmendra Pradhan was saying that he was thrilled that the Indian Knowledge System has been placed within an academic framework with the help of this new textbook by PHI Learning. Shri Pradhan was speaking about the global footprint of Indian knowledge, culture, philosophy and spirituality. He was saying that our ancient heritage is full of valuable knowledge which is still relevant in the modern world and must be preserved and documented. The Minister said that solutions to many of the world's problems lie in the Indian Knowledge System.
Dr. Subhas Sarkar spoke about the educational value of the ancient Indian Knowledge Systems. He was discussing examples from Ayurveda, construction of ships in ancient times, aircraft knowledge, architecture of Indus Valley Cities, and political science which existed in ancient India. He was expressing his appreciation for the book which contains discussions on all these topics. Shri Sarkar also spoke about how conserving and strengthening one's roots and knowing about one's heritage is vital for the upliftment of any individual.
Watch the full video at https://www.youtube.com/watch?v=8Ik6SUxX6Ts