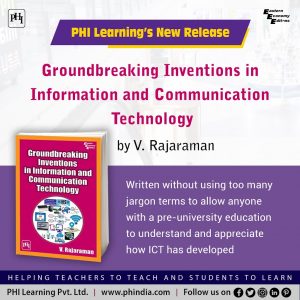 PHI Learning is going to release a book Groundbreaking Inventions in Information and Communication Technology by V. Rajaraman on 24th September 2020. This virtual book launch event is being organized by the Computer Society of India, Chennai Chapter, ACM Chennai Professional Chapter, and IEEE Computer Society, Madras Chapter in association with PHI Learning Private Limited.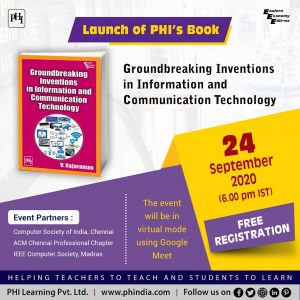 The book will be released by Dr. Srinivasan Ramani, a Ph.D. from IIT, Bombay, who has worked as a researcher at the Tata Institute of Fundamental Research (TIFR), Mumbai. He played a key role in creating India's academic network, ERNET, which brought the Internet to India.
Following the book release, the author of this book, Dr. Rajaraman (Emeritus Professor, SERC, IISc, Bangalore) will make a presentation on Groundbreaking Inventions in ICT. An author of several well established and highly successful computer books, Prof. Rajaraman has published a large number of research papers in reputed national and international journals. A Padma Bhushan awardee in 1998, he is also a recipient of the Shanti Swarup Bhatnagar Prize in 1976, the Homi Bhabha Prize by UGC, Om Prakash Bhasin Award, the ISTE Award for excellence in teaching computer engineering, Rustam Choksi Award, the Zaheer Medal by the Indian National Science Academy.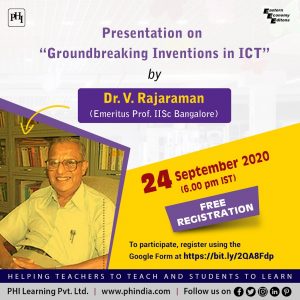 Mr. Asoke K Ghosh
, CMD, PHI Learning will address the Book Launch event on 24th September 2020 at 6 pm IST.
Mr. Asoke K. Ghosh is one of the pioneers of the concept of publishing low-cost editions of highly expensive books in India that are published abroad and making them affordable to Indian students. An alumnus of the Faculty of Management Studies, Delhi University, he is
a trendsetter in the world of publishing and regarded as the Father of Indian Publishing Industry
.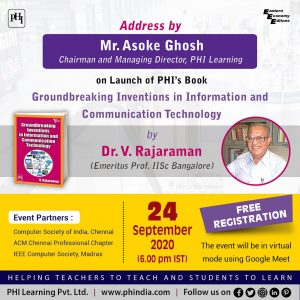 The event will be in virtual mode using Google Meet. All registered participants will receive a free copy of Chapter 1 of the book in pdf format at the time of receiving the Google Meet credentials to join the event. All attendees of the event on 24th September 2020 will get a special discount of 35% on the purchase of the book from www.phindia.com.
Nowadays, Information and Communication Technology (ICT) touches every aspect of our life. When we get up in the morning, we check our smartphones for any missed calls, SMS, and WhatsApp messages that include audio clips, video clips, and sometimes computer-generated cartoons and animations. Many of us read the latest news and email on our smartphones, tablets, or laptop computers that are connected by Wi-Fi to the Internet. Researchers search the World Wide Web for relevant research papers using a search engine, usually Google. To hear an old favourite song, we turn to YouTube. Books are bought by logging on to Flipkart or Amazon and placing orders. Air tickets are booked by logging on to an airline's or travel agent's websites. Train tickets are booked on the IRCTC site. Banking is done from home using Internet banking. When we want to go out and need a taxi, we use Ola or Uber App installed in our smartphones to find out in a map where taxis are, and the time it will take to get one. The taxi driver uses his phone to find our location (found by GPS) from the map on his smartphone screen. The fare is automatically deducted from our pre-paid accounts with Ola or Uber. Else, we may use a digital payment App such as Paytm or BHIM. If the Internet cannot be accessed for some reason, it is extremely inconvenient as a lot of our work gets delayed. Undoubtedly almost everyone has become dependent on ICT in their daily life. ICT has spawned many new industries that employ millions of people. All this has happened in a relatively short period of about seventy years.
In a short span of seventy years, Information and Communication Technology has changed the way we live. Often, we wonder how we lived without the Internet and smartphones!
PHI's recently released book GROUNDBREAKING INVENTIONS IN INFORMATION AND COMMUNICATION TECHNOLOGY by Rajaraman is written in a simple style without too many jargon terms to allow anyone with a pre-university education to understand and appreciate how ICT has developed.
What do we mean by a "Groundbreaking Invention"? Some of the meanings of the word "groundbreaking" taken from dictionaries are:

"innovative, pioneering" (Oxford Dictionary)

"A very new and big change from other things of its type" (Cambridge Dictionary)

"Introducing new ideas or methods" (Merriam-Webster Dictionary)

"Something innovative, pioneering or that has never been done before" (Your Dictionary)
Of these four meanings, the one given by the Merriam-Webster dictionary is closest to the criteria that are used to select the fifteen groundbreaking inventions presented in this book. What then are the criteria to classify an advancement in ICT as a groundbreaking invention? The following criteria are used:
The idea should be novel.

It should fulfil a need.

It should improve our productivity.

It should change the way in which computing is done, and computers are used.

It should lead to innovations.

The invention must have a long life and be continuously used and not be transient.

It should create new industries that lead to further innovations and may, as a consequence, disrupt some old industries.

It should transform the way we live and thereby result in societal changes.
Every groundbreaking invention does not need to satisfy all the above criteria. If it meets a majority of these, the author of this book has classified it as groundbreaking.
The book identifies and explains fifteen groundbreaking inventions in ICT from 1957 to-date. The first chapter explains what is meant by the term groundbreaking invention and the criteria that have used to identify groundbreaking inventions. The second, third, and fourth chapters describe the inventions, how they were invented and the biographies of prominent inventors. The biographies are given in Boxes. They may be skipped while reading about the inventions and read afterward to get an idea about the inventors and their careers. In the fourth chapter, concluding remarks are added that discuss whether there are some common features in the inventions and about the nature of the inventors and why they succeeded.
In this book, Dr. Rajaraman has described the following for each of these inventions:
History of the invention

A brief biography of persons who were associated with the invention

Why the author considers the invention as groundbreaking
The inventions are grouped as follows:
Between 1957 and 1974 (the first four inventions)

Between 1975 and 1984 (the middle five inventions)

Between 1985 and 2011 (the last six inventions)
Each group of inventions is described in a chapter.
This book seeks to answer the following questions lucidly to a non-specialist general reader:
How did this revolution happen?

What groundbreaking inventions led to this revolution?

Why are they groundbreaking inventions?

Who were the innovators and inventors of these technologies?

What led them to these inventions?
Fifteen groundbreaking inventions: Fortran, Integrated Circuits, Relational Database Management Systems, Local Area Networks, Personal Computers, Public Key Encryption, Computer Graphics, Internet, GPS, World Wide Web, Search Engines, Digitisation and Compression of Multimedia, Mobile Computing, Cloud Computing, and Deep Learning (AI) are described cogently by Professor V. Rajaraman, a doyen of Computer Science education and research in India.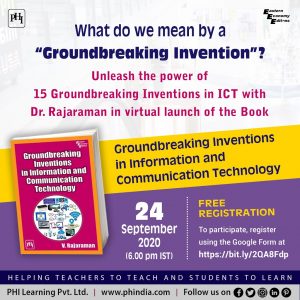 V. RAJARAMAN – A Pioneer in the Field of Computer Science Education in India
Born: 8th September 1933, Madras Presidency, British India
Occupation: Computer engineer & Academic Author
Known for: Computer science academics and literature
Padma Bhushan

Shanti Swarup Bhatnagar Prize

Om Prakash Bhasin Award

Homi Bhabha Prize

IISc Rustom Choksi Award

INAE Lifetime Contribution Award

IISc Distinguished Alumnus Award

CSI Lifetime Achievement Award
The Series of Books by Rajaraman, published by PHI Learning, is available for purchase from www.phindia.com.
The books are available in print book format as well as e-book format.
In case you want to reach us, visit the webpage of the book at
Write to us at phi@phindia.com